Qualify for Financing in Smyrna, GA
Welcome to the Ed Voyles Hyundai Finance Center in Smyrna, Georgia. Whether you're looking to learn more about our enticing Hyundai lease offers or are considering the traditional auto loan avenue, the experts at Ed Voyles Hyundai will help. Since we've opened our doors, we've strategically forged valuable relationships with several of the top banks, credit unions, and financial institutions throughout Sandy Springs, Marietta, Atlanta, and the southeastern United States.
We use our valuable relationships to help you find the perfect new Hyundai lease, new Hyundai auto loan, or used car auto loan. Simply put, we will not stop until we help you find a vehicle you love at monthly payment rates you can afford. Best of all, getting started is as simple as possible, and you can use our easy online application to find the best auto finance solution.
Have questions? Don't hesitate to reach out to Ed Voyles Hyundai in Smyrna by phone at (770) 952-8881 or by completing the online contact form.
Have You Considered a New Hyundai Lease?
Have you ever considered leasing your next new Hyundai? You may be a perfect candidate for a lease! When you lease a vehicle, you agree to use it for a fixed period of time and drive a set number of miles for a monthly lease payment. Because you are only using a portion of the vehicle's lifespan, most lease payments are substantially lower than an auto loan payment on the same vehicle.
The key difference between a lease and a traditional auto loan is that after your primary lease term (can be two, three, or four years) has been satisfied, you simply return the vehicle to Ed Voyles Hyundai—it's that easy! A few of the most attractive benefits of leasing a new Hyundai include:
You can drive a nicer, newer Hyundai every two, three, or four years
Leases have either a smaller down payment or no down payment at all
Leases do not have a long-term commitment
You can drive a nicer, better vehicle for less money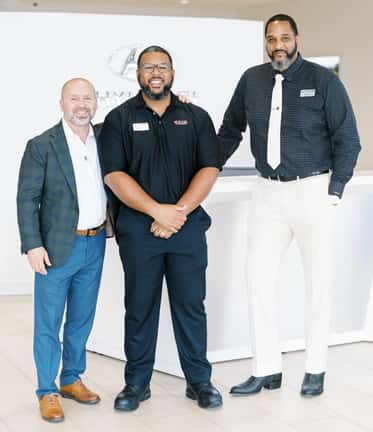 Traditional Auto Loans in Smyrna, Sandy Springs, and Metro Atlanta
Purchasing the vehicle through a traditional auto loan is a more straightforward transaction. When you use an auto loan to purchase the vehicle, you are paying for the entire cost of the vehicle, including any sales tax.
The monthly payments of your auto loan will be determined by the interest rate on the loan, the price of the vehicle, and the length of the auto loan. After you make the last payment on your auto loan, you will own your vehicle outright and can choose to continue driving it or sell it. A few of the key benefits associated with purchasing a vehicle include:
You have the flexibility to customize the vehicle to your liking
Without any mileage restrictions, you can drive your vehicle as much as you like
You will own the vehicle at the end of the loan.
Bad Credit, No Credit & First Time Auto Lending Solutions
At Ed Voyles Hyundai, we are proud to offer a full range of auto finance solutions for people with good credit, bad credit, or no credit. Even if you've been previously told no, the team at Ed Voyles Hyundai wants to help. We use our relationships with some of the top subprime lenders in the United States to provide viable auto loans to customers in the metro Atlanta area with bad credit, damaged credit, or no credit at all.
We also specialize in providing affordable loans to first-time car buyers in Smyrna. Regardless of your current credit situation, we promise to work diligently to help you find a vehicle you love at monthly payment rates you can afford. Most importantly, we'll always treat you with the respect and integrity you deserve, because we believe you're more than your FICO score.
Contact Ed Voyles Hyundai for New & Used Auto Finance
Finding the perfect auto financing solution can be confusing but it doesn't have to be! The experts at Ed Voyles Hyundai offer a full range of flexible and versatile automotive financing solutions. We will work tirelessly to match your unique needs to the perfect new Hyundai lease, new car loan, or used car loan.
Contact Ed Voyles Hyundai or complete our online contact form to drive today!